E-DB-10 Series Flow Computer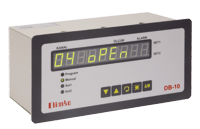 E-DB-10 Series Flow Computer is designed using new generation micro-controllers for flow measurement needs with temperature and pressure compensation. E-DB-10 Series dimensions are 96 x192 mm, conforming to IEC/TR 60668. The instrument's universal inputs and outputs can be easily programmed by the user.
The unit has a 4 digit flow rate and 8 digit totalizer display.
The relationship between the analog input and flow rate can be programmed as either a linear function or square root function. The engineering unit of flow rate can be selected as units/second, units/minute, units/hour.