E-VS-100 Series Vibrator Driver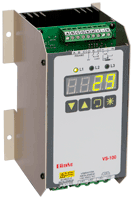 Suitable for cabinet mounting, the E-VS-100 Series vibrator drivers are microprocessor based, designed to drive vibrators used for product feeding in blending, dozing, bagging and filling systems.
The vibrators are widely used in iron & steel, glass, ceramic, cement, fertiliser and food industries to generate mechanical vibrations and enable the flow of granular material.
The E-VS-100 Series vibrator drivers enable the vibrators to be surveyed adjustably. E-VS-100 Series vibrator drivers can also be programmed using the front panel keys. The device can also be connected to a system via RS485 interface and certain parameters can be sent to this device through this system.