E-KC-200-H Series Head-Mounted Temperature Converter With Hart Protocol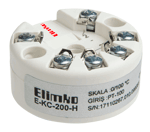 DESCRIPTION
E-KC-200-H is a head-mounted type two-wire temperature transducer conforming to the HART protocol. Converters converts the measured value to a 4-20mA current signal according to the configured scale. Thermocouple and resistance thermometer type temperature sensors can be connected to the input of the converter.
DC mV and resistor can also be connected to the converter input.
E-KC-200-H converter can be configured with the HART configurator or a special PC software available from Elimko.