E-RLT-100 Series Radar Level Sensor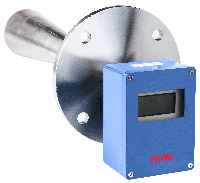 DEFINITION
E-RLT-100 series Radar Level Sensors are designed to measure the level of material in silos. 24 GHz K-Band FMCW Radar provides high resolution reliable measurement with narrow beam microwave transmission. Optional two-wire 4-20mA electrical interface with optional HART output simplifies installation and reduces maintenance costs. The antenna options with different lengths can be adapted to various process conditions.
• 24 GHz K Band High Resolution FMCW Radar
• Very narrow radiation that provides interference free measurement in small silos.
• Stainless steel funnel antenna with different dimensions
• 4-20 mA two-wire easy connection
• Optional HART 7.0 communication protocol
• Front panel LCD display and keys for easy configuration of sensor parameters
• Faulty echo and interference prevention filter
• PC configuration software
• IP-65 Aluminum Sensor casing areas.