Bayonet Type Thermocouples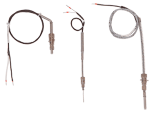 - STANDARD CODE
It is coded with digits and letters containing the drawing number and 8 separate pieces of information.
- ADDITIONS TO STANDARD CODE
In addition to the technical specifications contained in the standard codes, the required features are listed in the " ADDITIONS TO STANDARD CODE". These features are given below. In this section only needed features are written. See examples.
- SPECIAL CASES
Additional features which are not fully defined with "STANDARD CODE"and'ADDITIONS TO STANDARD CODE'are coded with special drawing number. This code is expressed with IN=Manufacturing number.