Belt Scales & Weighing Belt Conveyors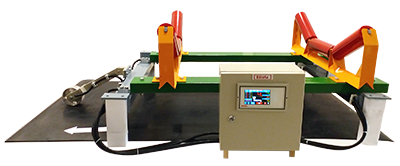 DEFINITION
Elimko Belt scales are designed to measure the flow rate on each kind of belt conveyors. Elimko also produces weighing belt conveyors for better accuracy.

Elimko Belt scales are three types.
1. Single measuring idle
2. Multi measuring idle or measuring platform
3. Weighing belt conveyors.

Accuracy of the first type is 1% and accuracy of the second and third types are 0.5%. First and second types, accuracies are only valid for belts with hot or cold vulcanized smooth joint.
Elimko belt scales and weighing belt conveyors, E-BK-100 types use E-AC-10-BKB and E-BKB-1000 types use E-AC-1000 type controller for high accuracy.
E-AC-10-BKB and E-AC-1000 controller measures weight and speed with 16 bit accuracies. Controller has standard RS485 Modbus Communication and it can have Profibus communication
as an option.