Check Weigher and Seperation System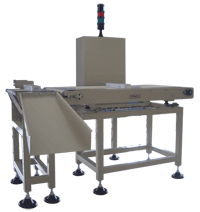 DEFINITION
Elimko CW-100 Check Weigher and Separation System checks the weight of products and separate them if they are out of tolerance.
They are produced according to the properties of products. They can be grouped for different sizes according to the weight of the products.
E-CW-100 has 2 main parts;
E-CW-100-TKB Weighing and checking unit
E-CW-100-HTA Separation unit for out of tolerance products.
General Properties:
Easy assembly
High repeatability
Economical
Low maintenance cost
In order to obtain the correct measurement, it is required to be careful during the ordering phase and to provide correct information to the manufacturer. In the order, information such as Product size, weight, number of product/minute, +/- weight tolerance, are important.