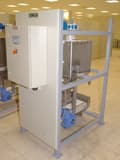 DEFINITION
Loss in Weight Feeders are used at different fields of industry. Elimko Loss in Weight dosing units have a distininguished place among Elimko Dosing systems.
E-BMB-100 Loss in weight feeders have a better accuracy at low flow rates than other dosing systems. System measures the loss in weight at unit time interval and calculates the flow rate from this information.
Elimko is producing loss in weight dosing units from 1 kg / hr to 20 000 kg/hr.
Elimko units have 3 different types of discharge feeders according to application;
Belt feeder
Screw feeder
Vibrating feeder.
E-BMB-100 Loss in weight feeders use E-AC-10-BMB control unit for higher accuracy which has weight compensation. They have RS485 Modbus communication as standard and optional Profibus or Ethernet.
General Properties:
Accuracy is better than 0.5 %
High reliability
Easy installation
Low maintenance
Applications:
Cement Industry
Detergent Industry
Glass Industry
Iron & Steel Industry
Food Industry
Chemical Industry
Ceramic and Porcelain Industry