Pneumatic Transporter - Denseveyor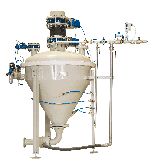 DEFINITION
E-DNV-100 Pneumatic Transporter is a unit that provides transfer of powder materials from one point to another by air.
E-DNV-100 pneumatic transporter provides transfer of materials between 0.1-5 mm size with a capacity of 5 t/h-50 t/h depending on the material type transferred without line blockage 10 m to 300 m using AUTOMATIC LINE PRESSURE CONTROL SYSTEM in Dense phase.
It is usually used for transferring heat-sensitive, semi-abrasive and/or highly abrasive, adhesive and/or highly fragile materials like Soda ash, Limestone, Sodium Sulphate, Sodium Nitrate, Dolomite, Feldspar, Carbon, Sand, alumina etc.
General transfer speeds are between 0.5 - 20 meters/sec and transfer pressure are between 1-7 bars. Capacity of transporter varies according to type, material and distance.