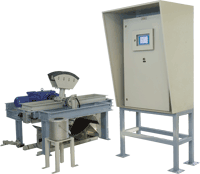 DEFINITION
Elimko sampling systems include all of the units to prepare a sample from the material transfered on the belt conveyor. It has units to take sample from the belt, splitter and divider and some applications crusher, and sample collection units and boxes.
Elimko has the following units for sampling
E-CBS-100 cross belt sampler
E-RSD-100 sample splitter and divider
E-SCU-100 sample collection unit
a) Cross Belt Sampler
The CBS-100 Cross-Belt rotary cutter sampler is a member of E-NAS-100 family. It is designed to extract representative samples directly from solid materials carried on a moving conveyor belt. Extraction takes place by driving the CBS-100 cutter through a circular path above the belt with radius of the path matched to arc radius of specially constructed supporting belt idlers installed on each side of the cutter. The supporting idlers establish a fixed belt contour at the sampling position. This arrangement permits the cutter to traverse the belt surface with an equivalent radially shaped cutter skimming the belt surface (edges of cutter are adjustable and contoured polyurethane plates, avoiding a possibility of metal contact with the belt surface to cause belt surface damage).
b) Sample Splitter / Divider
The ELİMKO RSD-100 Sample splitter is one of the most important unit of Elimko sampling systems. It divides the sample material by means of a rotating cutter. It has two units;
Collection hopper,
Divider
Sample material is collected in the collection hopper. Divider and discharge feeder under collection hopper start running when the weight of the collection hopper reaches to set value. Divider is a rotating cutter and it divides the sample with the predefined ratio.
c) Sample Collection Unit
The ELİMKO sampling systems has different type of sample Collecting Units. SCU-100 series has manual and automatic changing collection units and they may have 1 to 10 containers.
Standard types are:
SCU-100-M-n (Manual changing with n collection units)
SCU-100-A-n (Automatic changing with n collection units)
Standard size of the collection hopper is 20 lt.